HabAid's day out at Bruntingthorpe for Camp Simcha – 13 August 2014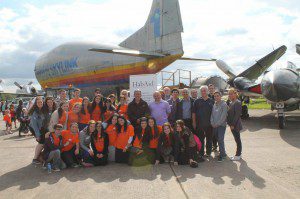 HabAid organised and sponsored a day out at Bruntingthorpe Proving Ground as part of the Camp Simcha Keshet Summer Scheme. 50 children suffering from Cancer or other life threatening illnesses and their families attended this special day. This was a first for HabAid and it was a resounding success. Overall, 180 people participated from London and Manchester, with activities organised including go karts, arts and crafts, rides in a stretch limo, with the highlight being high speed rides in sports cars driven by members of HPC (the High Performance Club) – being the highest grade of civilian drivers in the country – and we are very grateful to those drivers for their time and efforts and to Don Palmer for coordinating this. Lunch was served on board a VC10 with exclusive tours and explanations in the cockpit from an expert on the history of VC10s.  Many other planes were made available for the children to get into. The day culminated with one child (to celebrate his mother's birthday) starting up the engines – and the after burners – of a jet plane under the tutorage of Dave Thomas. What a noise!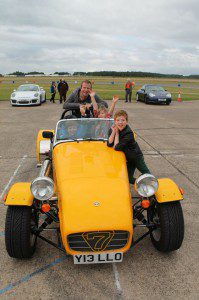 What a feeling for all when a child confined to a chair and unable to move is hoisted into an Audi R8GT with the roof down and driven by a Le Mans racing driver. How can we put in words when another child in an electric wheelchair races around the go kart track with her sister in a go kart, and while she could not speak when she won the race and was shown the checkered flag she put her thumbs up! To see the children and their ingenuity in getting rides in lots of cars, from Ferraris, Porsche's, Caterham's, BMW's and Audi's comparing notes with each other (who went the fastest? Whose drivers were the best?). Smiles and happiness all around. Through the generosity of our supporters and those wonderful volunteers from HPC and Bruntingthorpe who gave of their time and expertise the children, their families and carers had a wonderful and memorable day out. We hope to be able to repeat similar days in the future.
[flagallery gid=11 w=750 h=500 skin=minima_jn]