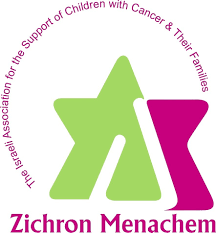 Zichron Menachem provides support for any young person in Israel under the age of 25 living with cancer, as well as their parents and siblings.
Zichron Menachem was founded in 1990 by Chaim and Miri Ehrental after their oldest child, Menachem, died of leukaemia at the age of 15. Diagnosed at the age of 2, the Ehrentals soon realised there were few places they could turn for support. Zichron Menachem was created to change this.
Families of all religions and backgrounds turn to Zichron Menachem for the help they need most, be it information, a second opinion from Zichron's "clinic of hope", or a break from the punishing routine of medical appointments.

Zichron Menachem works closely with Israel's leading medical professionals, who strongly believe that no child can be treated comprehensively without the support Zichron provide.
When over 100 terminally ill children come over to the UK for a holiday, HabAid takes them all and their carers to an incredible day of fun and thrills on a professional motor racing track with supercars and volunteer professional drivers who take the kids out at high speed on the track, giving them a thrill and a day they will remember for the rest of their short lives.
This bi-annual event costs HabAid over £10,000 to fund. Any amount you give will ensure we can continue to give them a day they will remember and take their minds away from their terminal illness.