Tribute by Judy Hammond, Rabbi Spector's daughter
Dear Lane,
I enjoyed talking to you and was indeed very moved by your desire to understand a little more about my beloved Father, Rabbi Spector O"H.
Looking at the information that you have, there is not a great deal that I can add.  Only to say that, as his daughter, I probably didn't appreciate what an exceptional human being he was, who touched so many lives in the most positive ways possible.  To me he was "Daddy", and we were extremely close.
I opened a small public relations agency in 1966 when I was 19 and he would often come up to my office in the West End.  He would sit and watch me whilst I talked to various people on the phone.  He gave me huge encouragement and wonderful sound business advice, which has stayed with me forever and has directed my life.  Wherever I go, I meet people who tell me the same story.
I remember when I was about 12, he started the Habad Orphan Aid Society following the horrific terrorist attack on the boys who were praying in Maalot.  His charisma ensured that no one could refuse his requests for help.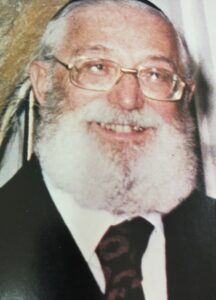 Everyone who came into contact with him was immediately aware of the spiritual depth of this human being, who radiated love and caring for his fellow man, regardless of how religious they were. Thus he motivated each member of the committee to give of themselves in every possible way.
I am truly honoured by the interest and respect you are showing to my beloved father. His memory lives on.
With best regards
Judy Hammond