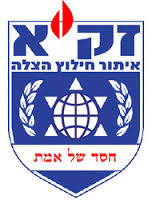 ZAKA Search and Rescue is a UN-recognized humanitarian volunteer organization that provides a rapid response to mass casualty disasters across the world. To date, ZAKA has saved thousands of lives—and honoured those who couldn't be saved with dignity in death
In the forefront of international search and rescue and recognized in 2005 by the United Nations as an international humanitarian organisation, the ZAKA canine unit recruits teenagers from socially disadvantaged and "at-risk" environments and trains them with dogs to seek out and rescue people – such as in earthquakes. In doing so it takes young people who otherwise would have been a drain on society and turns them into skilled and dedicated lifesavers. It achieves so much of the purpose for which HabAid exists and we are proud to have recently become supporters of this unit.
ZAKA today offers professional and highly skilled volunteer services in the areas of emergency response, search and rescue, accident prevention and assistance in international disasters.
Professional and specialist search and rescue units have been established over the years, including among others a motorcycle unit, K9 unit, Jeep unit, ATV unit, Jet-ski unit and Divers unit. In all cases, these consist of highly trained volunteers, each a specialist in their own field, bringing the skills and dedication to the organisation and ensuring the fastest and most professional response to any situation.
ZAKA has also created a bridge between the various sectors in Israeli society, with the values of volunteerism and dedication as the connecting forces. ZAKA volunteers include among their ranks Jews, Christians, Druze, Bedouin and Moslem; young and old; men and women; religious and secular. ZAKA provides assistance to all, regardless of religion, race or creed.
ZAKA responds to emergencies around the world – bringing their incredible search and rescue capabilities and saving thousands of lives. All funds are from donations. Please help where you can.